For those of you who don't follow me on Instagram, I recently purchased a few custom polishes from the lovely ladies at Jior Couture. I've always been hesitant to try to get custom polishes since they generally cost more and I was never sure if I would end up liking the result. In this case, I had no concerns going in and no regrets coming out! These ladies are magicians, I tell you. Since I love everything I've ever gotten from them, I was thrilled to get a chance to make these customs that are very close to my blackened heart.
As you may or may not know, I spend my Sundays with close friends and some family playing pen and paper RPGs. All of these polishes were made with some of my most beloved characters in mind. Even if you don't know what that is, I'm sure you can still enjoy the beauty of these polishes!
First up! Quui was named after my monk during our Rise of the Runelords Pathfinder campaign. She had some awesomesauce orange monk robes, hence the color inspiration! The only pictures I can find are both not wearing orange robes and designed off of Diablo 3 monks, but my D3 monk had the same name! So it all works out.
(Image Source: http://fc04.deviantart.net/fs71/f/2012/172/1/b/diablo_iii_monk_by_zaphk-d54a7dv.png)
My girl Quui wrecked the absolute crap out of things until she was squashed. Like, literally. A stone giant smacked her into the ground and she was pudding. Nevertheless, she will go down as one of my favorite characters I've played! So this one was dedicated to her lovely self.
For this, I did two easy and amazing coats of Quui from Jior Couture. After that, I used "Little Brown Dress" from Essie, "Cypress" and "Never Nude" from Cirque Colors, and "Wooden Shoe Like to Know?" from OPI to make some mountains. These are the mountains that my lovely monk was squashed in! I decided to add some dots to the top because it looked very empty. For some reason, my skin looks very colorless in this picture where it didn't in person. As expected, this polish is perfect in every way! Great coverage, amazing dry time, and no staining when I removed it. Love, love, love.
Here's a bit of a closer view!
(Image Source: http://1.bp.blogspot.com/-rCc0a3IyyT8/UW6ejoPxegI/AAAAAAAAEIU/soKduxLKBCA/s1600/The_gelatinous_green_cube_by_Shockbolt.jpg)
Next up is Quiemita! Named after my cave druid in our first Pathfinder campaign, this gorgeous green is so exactly what I've been missing from my collection. I've spent forever trying to find this shade, and Jior Couture nailed it! I had acidic slime in mind when I designed this one, as Quiemta was a cave druid. After some random number of levels that I can't remember, she could have turned into an ooze (how awesome is that?) so I thought it was fitting. Quiemita, too, met an unpleasant fate. She was actually killed and then resurrected and then killed again like twenty minutes later in a TPK. GOOD TIMES. This was one of my favorite characters to play ever. She grew up in a cave, so it was really fun roleplaying her not understanding any social cues. For example, one time I super failed a roll to understand someone giving me sign language cues and I fell into some water and blew our cover. Anyway! To the actual polish.
For this lovely business here, I used three coats of Quiemita for the base. It was pretty opaque in two, but I prefer not seeing my nail line. The wonderful Quiemita's favorite food was cave mushrooms, so that's what I decided to draw! You should have seen the practice mushrooms for this, it was just a hilariously bad process. For the mushrooms, I used a base of "Yes Your Majesty" by Stardust Polish with "Little Brown Dress" by Essie for the dots and outlines. The underside of the mushroom is "Butt Bootie Naked" by Lacquer Lust and the stem is "Wooden Shoe Like to Know?" from OPI. As per usual, this polish was perfection. It dried very quickly and was easily removable despite being super glittery and gorgeous on the nail!
A sort of close up to see my mushroom that I'm unreasonably proud of and a better view of the shimmer!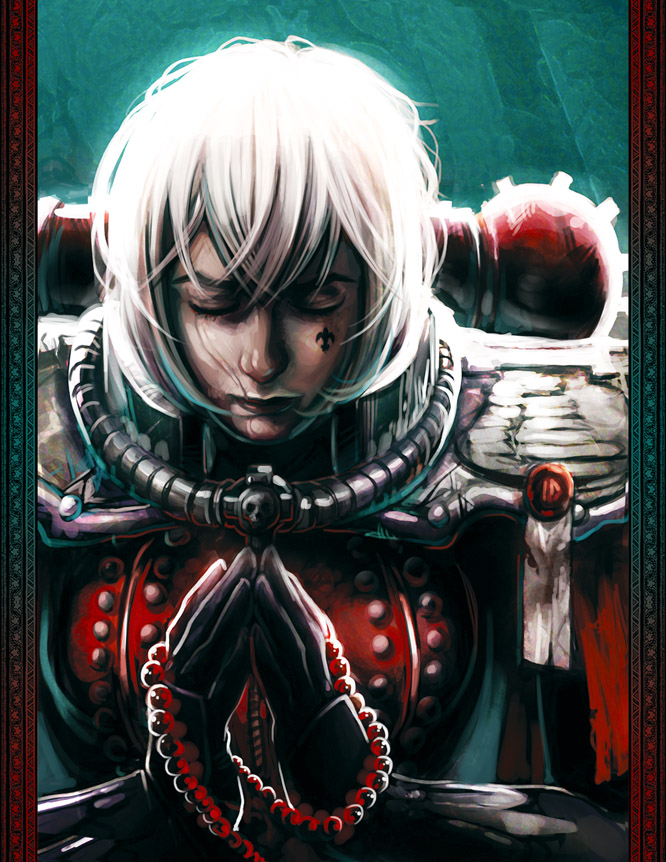 (Image Source: http://img2.wikia.nocookie.net/__cb20120409013052/warhammer40k/images/f/f9/Sister_Praying.jpg)
Last but abso-freakin-lutely not least is Moll. Moll was named after my Arch Militant in our very first Rogue Trader campaign. Mind you, that picture is of a Sister of Battle, but it's exactly what Moll looked like. The 40k world is one of my favorite things since sliced pie, so getting to have essentially limitless funds and connections in it was pretty awesome. Like, I had my own army on our ship. I saved this character for last since she is the only one still alive! Our campaign ended suddenly when my jerk friends were jerks and broke up our ship, but she will live to murder them in my campaign someday.
As with Quui, this was two coats and a breeze to use. Since Moll was an insane murderer, I gave her a blood accent nail using "Through the Fire" from Deborah Lippmann. In fact, I designed this polish off of the blood that she tended to spill. I miss the heck out of her! As with all of the above, I'm entirely in love with this polish.
More of a close up on this juicy, red holo!
Overall, these polishes were everything that I wanted and more than I expected! They were made and shipped in record time, and there was clearly no lacking in quality in the process. If you've ever been hesitant to buy custom polishes like I was, look no further! Jior's got you all set up. Check them out at
www.jiorcouture.com
.
Disclaimer/Note:
If it wasn't obvious, I paid for these myself. I wasn't asked to review them, I just honestly love them and wanted to share my experience!